Dining Room Table Pad Protector



Custom Made Affordable Table Pads
Premium Table Padded Top Cover designed for the finest dining experience

5/8" thick table pad protects the top table surface against accidental heat source up to 550°F

Patented Quick-Lock™ clip keeps all protective pad sections securely locked together

Protects your dining table surface from scratches, nicks,

dents, watermarks, stains, sunlight

Bottom suede velour material protects your tabletop surface when table pad is covering your table.

Three layers of material protect your table against accidental damage caused by hot plates or pots.

Quieter noise during meals for more pleasant dining experience

All Table Pads delivered on time for Thanksgiving or delivered before Christmas or Hanukkah
In addition to custom made dining room table pads, we are producing custom covers for your business table, side table, end table, buffet, piano, coffee table, and even large table pads for conference tables. Contact us for more details.
Quick-Lock™

Depending on your table size, table pads are produced in two or more sections. Quick-Lock™ sets are keeping all table pad sections securely locked together, eliminate sliding and they are hidden from the view when in function.
Protect your table with our custom made table pad top
The most important thing you can do for your dining or antique table is to protect its surface with table protective pad for your dining table. Keeping your table protected from everyday hazards will keep it looking new for years. Chemical coating can help against spills, but only custom table top padding can protect it from scratches, nicks, exposure to the sunshine.
Who makes the best dining room table pads? Read our customer's reviews. We are determined to provide our customers with the best quality table protecting topper pads at the affordable price and to provide the best customer service in the industry.
We are producing only one level of quality: PREMIUM, the best quality table pads on the market. We are not offering low cost (bite and switch) table pads that nobody wants. We are using a premium, elite quality material for all our table pads. Our production material comes from American companies.
How to measure your table top surface
If you need to supply your table surface pattern, please measure just the very top of the table surface. It is important to give us accurate measurements as precise up to 1/16 of the inch.



Table Pad for Dining Room Table
M.J. (OH) August 2016 Received my Table Pad today and it is just what I wanted. PERFECT!!!! And very very good service. Thank you!!!
D.F. (IN) July 2016 Don, thank you for working so closely with me on our custom order. The pads arrived in a matter of days and are perfect! We greatly appreciate the individualized attention and the exceptional quality and service.Thank you again. D.F.
P.N. (WI) June 2016 We just received our new table pads. They fit perfectly and we are very happy with them. I should have ordered the storage bags too. Can you give me a quote by looking at my order. Thank You.
D.B. (OR) Nov. 2016 I received the table pads yesterday, they are perfect! I'll send photos soon.
B.R. (AZ) Nov. 2016: Don, Thanks so much. The pad arrived yesterday and looks fantastic.
W.J. (CA) Jan. 2017: Received our table top today and we are so happy with the quality and it will serve our family so well! Thank you. We will definitely recommend your company to our friends and family.
C.K. (CA) Feb. 2017: WOW! An extremely nice product! I am very impressed.
Fits well. Locks together fine. Arrived quicker than I expected AND Made in the USA. Who could ask for more.
L.D. (CO) Mar. 2017: Great table pads! Good Fit! Good price! Speedy delivery! Thanks!
G.H. (PA) March 2017: We are thrilled with our table pads! They fit perfectly and look wonderful! So great doing business with a "Made in USA" company. We will definitely recommend you to others.
K.G. (OH): Hello, I just received my table pad and love it! Apparently I didn't check the quick lock box. Is there any way I can still get the locks?
P.P. (NY) March 2017: The table pads for 3 tables arrived – delayed one day by the snow storm, but of course that can't be helped. They are perfect! They fit perfectly and each pad clips magnetically and smoothly to the one next to it. Both my daughter and I are very pleased. In fact, now my middle daughter has decided that she needs a set as well, so I will be sending you the specifications soon! I have included a few photos. The small round table – called a pie crust table because of the edging – is shown without any pad and with the pad half folded and then fully extended. You will see that the pad reached the top of the "pie crust" edging so that with a small round cloth on it, the table will be perfect for tea or to hold dishes when our dining table is full. The dining table is show with 2 of the 3 leaves in it and there is a close up of the rounded edge of the table. The very thin white line at the bottom of the pad is actually a slight reflection, but in fact, the pad reproduces perfectly the curvature of the table.
I know I will love using these pads for many years to come and if I can be of help in recommendations, please let me know. It would be my pleasure.
Table Pad Construction
Our table protective pads are handcrafted by very experienced workers. All process is relying on the craftsmanship of individuals, their patience, and skills. This product is present on the market since 1920's. Over the years, the production process has been improved, there are no more stitching, adhesives are used. Different companies are using different processes to produce table pads. There are only four major manufacturers in the US. Most of them are using animal glue in their production. Some of them are making the product using one board, others are using two or three layers. All manufacturer are using the same top vinyl material supplier and bottom velour material suppliers. Some manufacturers are also importing material from China. All are making their pads by hand in final stages of the production. There is no way around it.
We distinguish ourselves from the rest of the pack by focusing on the retail customer, thus giving us the opportunity to avoid a mass production and focus on the quality of the product. In addition, we are using the best materials available on the market as we think we should provide the best product for your money. Our core board is 7/16" thick light density and smooth fiberboard. At the top, we laminate two layers of the insulation felt to provide even more heat resistance. Total thickness is 5/8". This construction makes our table pads a bit flexible which is a desirable property for the table pads as it will lay down flat. This type of insulation felt used in table pads construction is the same one used for roofing shingles and in the auto industry for noise cancellation. The top vinyl material is made in the US by the manufacturer located in New Jersey. It is produced in accordance with all environmentally friendly methods and it is a top quality material. Underlining, bottom material is velour, velvet like material produced by two US-based manufacturers, both based in Massachusetts. This material is very soft and designed to be non-reactive with the smooth surface of your table.
In our production, we are using only water based adhesives to avoid animal glue smell and its rigidness. This water based adhesive type is specially produced for our needs by the manufacturer based in Ohio. It is very flexible and strong at the same time. All ingredients passed the most rigorous environment requirements. We ourselves would not like to be exposed to any hazardous materials during the production process and you can remain confident to receiving the product that will not harm your table surface and will not cause any health problems to the people dining around the table.
We pack our products in a double wall carton with a bubble wrap to prevent any unintentional damage in transportation. We never use any Styrofoam loose-fill.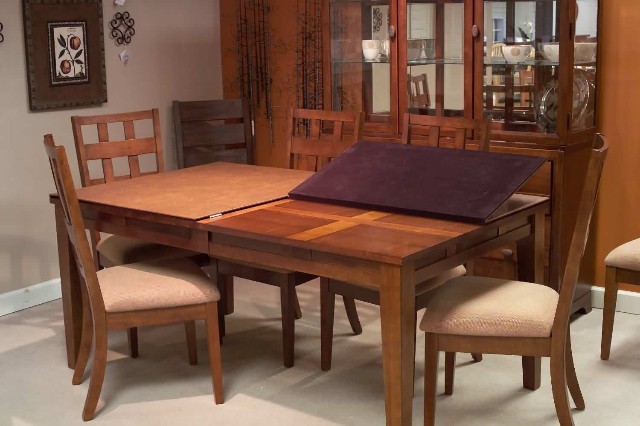 R. S. (NY) May 2017: Thank you so much. We received the table pad. It's perfect!! It got here so quick. Excellent product and fantastic and service! R.S.
J.H-N (FL): Thank you for the wonderful table pad. I'm so glad we ordered through your company, the delivery was fast and great quality. Definitely, must have with small children.
E.F. (IL) July 2017: To whom it may concern: I wanted to thank you for the beautiful, custom-made table pad for our very small kitchen table. It arrived in excellent condition on Wednesday, July 12, just as promised. It fits perfectly and matches the wood in the kitchen. I am so pleased and will happily recommend your company to others--not only for the excellent product and workmanship (and speed of service) but also for the friendly, helpful personnel with whom I was in contact--specifically Don. Thank you again. E.F.
S.H. (NC): Hi Don, Just to let you know that I have received the table pad and leaf today and they are perfect. The corner fits exactly and I like how well made and the color that they are. Thanks again for your help.
V.DM. (NY): I just took my new table pads out of the box and I have to say that I am completely thrilled with the product. Also very impressed with your turn around time....I ordered the pads online, after regular business hours (very easy process), on the 18th of July and received them on the 26th! Of course, my order was for a fairly long rectangular table, no fancy corners or anything, but I'm still blown away that they got here so quickly. I will definitely recommend your company to any of my friends who may be in the market for your products.

If you need a template paper, vinyl top or velvet bottom material color samples, construction samples or any other request, please fill up the
J.B. (OK): My top arrived today and it is perfect! - Joi
A.R. Hello Mr. Unger, We received the table pads today. They fit perfectly and are beautiful. Thank you so much!! A.R.
M.P. (MN): Thank you so much for the wonderful service and fine craftsmanship of my new table pads. We received them yesterday and are thrilled with the results. Definitely will recommend you and return when in need of same products again!
V.W. (PA): Hi folks, received the table pads yesterday. They are wonderful. Thanks for getting them here before Thanksgiving. Our table was made from an ash tree from our property so it has great sentimental value. Crafted by a Mennonite friend. Also sending photos. Thanks again, Vickie
E.W. (NY): I ordered custom table pads for my new expensive dining room table. They were reasonably priced (around 225) which I found nothing for a table valued over 1000 dollars. I placed my order online on a Sunday after following careful and well-detailed instructions on the site. Imagine my surprise when half an hour later I got a call (on a SUNDAY!) confirming my order and reviewing all measurements to make sure I made no errors when submitting. I paid an extra 20 dollars for expedited shipping and was given a delivery date about 3 weeks after I ordered. My table pads came today, several days early and they are amazing. The quality is great, and they are a PERFECT fit. I would recommend this company to anyone looking to protect a nice table.
N.Z. (FL) Received table pads today. They are perfect. Thank you.
K.C. (CA) Feb. 2018: Hi Don, I received the table pad. It is beautifully crafted and fits perfectly. Thank you so much!
J.S. (AZ): March 2018: Table top looks great and is a perfect fit.
D.W. (GA) March 2018: Just wanted to let you know that my table pad arrived yesterday and I am very pleased. It fits perfectly and arrived much sooner than I expected! Good job!
FREE QUICK LOCKS, $25.00 Value