Pool Table Hard Top Cover and
Pool Table Extension Top Cover



Billiard Table Cover safeguards your billiard/pool/snooker table surface from potential damage. It converts your billiard, pool, and snooker table into a dining serving area or entertainment center for hosting large gatherings.
We are selling standard size 55 x 99 hardtop billiard table covers, or they can be customized to your specification to any other size. (some limitations apply). The standard 55 x 99 Cover has three sections (38+23+38), each fold width-wise.
Our Fitted Hard Top Billiard Table Covers are made of a 7/8" thick lightweight core board to deliver a sturdy, large, usable top surface.
If you do not feel comfortable placing the order online, please get in touch with us by email or phone, and we will promptly respond.
Describe your billiard or other game table and what you want to accomplish. We will send you a detailed answer and offer a solution for your specific situation. Converting Billiard Table into a large dining surface becomes easy.
We need the overall dimensions of your billiard table to complete your order. (The largest width and the length). In addition, we need to know if the distance between the playing surface and the rail is higher than 1 ½".
The Standard is a 5" radius corner. If you want a different corner shape, we require a full corner pattern or your decision about the corner radius.
If you are buying a CUSTOMIZED size Billiard Table Top Cover - Pool Table Conversion Top, when you call us or send us an email, let us know:
Your Billiard Table

LENGTH and WIDTH

CORNER SHAPE

(watch instruction video)

The distance between the playing surface and the top of the wood molding

Are the pockets risen higher than the rail and for how much
You can choose between ten leather-like re-enforced top vinyl colors:
Chestnut, Cinnamon, Black, Sand, Saddle, Cranberry, Light Cherry Woodgrain, Walnut Woodgrain, Ivory, Slate Gray, Glacier, and Green (All marked TEXP, see color chart page).
The vinyl material is additionally strengthened to provide long-lasting durability.

The bottom material is BLACK woven polyester brushed fabric. It provides a soft and highly durable surface to protect your Billiard.
WARRANTY: Ten years warranty on materials and workmanship.
CUSTOMIZED POOL TABLE HARD TOP COVER $ CALL US
STANDARD POOL TABLE HARD TOP COVER

$

455.00

55 x 99 Full 7/8" Thick, Very Sturdy
POOL TABLE

EXTENSION

HARD TOP COVER $ CALL US
Extends your Pool Table beyond its size to serve as a large dining or serving area.
We can extend it up to 12" in width and up to 48" in length.
Send us an email with specifications or:
Call 888 487 2377 for the price and to discuss specifications
D.MC. (FL): Don, I just received the Pool Table Cover and wanted to let you know how much I love it. It is absolutely perfect! I have attached before and after pictures for you. I really appreciate how quickly you got them to me. I don't have a Facebook page but will have my daughter leave feedback so that everyone will know what a pleasure it was doing business with you and Heartland Table Pads. I will recommend you to anyone who is in the market for Table Pads. Thank you so much, DMC
J.C. (OH): Dear Don. Our pool table pad arrived today and it is perfect! Thank you very much for your excellent customer service! Here are a few before and after photos.
C. T. (WA): Just wanted to pass along our thanks for your prompt handling of our order. Everything arrived and is perfect!!! (Pool Table Cover)
J.A. (CA): Hello Don, My husband and I received our pool table cover last night. I just wanted to commend you on your fantastic product and workmanship! We had gotten a different pool table cover previously and was so poorly made we returned it. Your product looks fantastic and fits our table perfectly. Thank you so much for contributing to our home. Jackie
A.B. (MT): Thank you, Don, for your superb customer service in helping me with getting a cover for Easter. It arrived on Thursday and fit great and the color works with the decor. I will certainly write a great review on your website. Thanks again
Any other size Hard Cover with any corner shape: Send us an email. Note the width/length and the corner shape. Let us know if the pockets are higher than 1 ½" above the playing surface.
Call 888 487 2377 for price and to discuss specifications
NOTE: If you want to buy more then one Pool Table Hard Top Cover, please call us for the price and shipping cost estimate
TWO STORAGE BAGS $84.00
With your order, you can buy two Storage Bags at a discount:
Ad Storage Bags at the checkout.
Protect your billiard table from
accidental damage:
Stains and damage caused by food and beverage.

Prevent cuts, tears, rips, burns, scratches, gouges, chips.

Prevent liquid marks or rings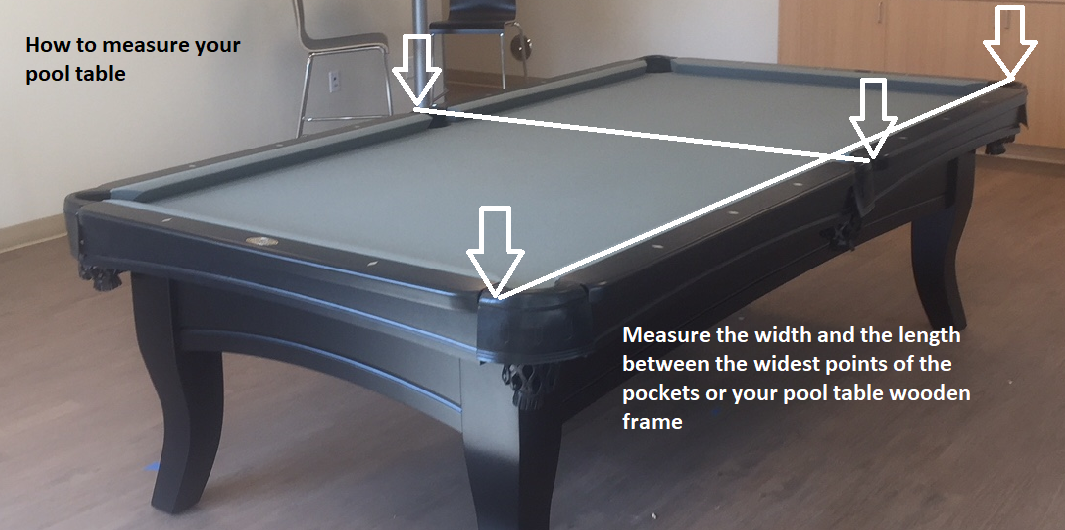 In addition to billiard tables, we can make a custom cover for your Poker Table, Foosball Table, Air Hockey Table, and Shuffleboard. Call for details.
Solid Top Pool Table Cover - Conversion Top can be produced larger than your pool table. Ask about our unique Pool Table Top Extension Cover.
Each Billiard Table Cover section will be made with one hinge width-wise, in up to five separate connecting sections, depending on the required billiard size. Sections fold in the half flat for easy storage. Hidden Velcro® strips tightly hold all pieces together.
With your Hard Top Billiard Table Cover, you will receive a free support kit: An appropriate number of black light closed-cell foam inserts 36" x 3" x 1½" to support the billiard top surface. If custom supports are needed due to the higher railing or pockets, they will be custom-made at an additional charge - please call us before placing your order.
CUSTOM STORAGE BAGS for your Billiard Table Cover: We offer unique custom-made storage bags for your pool table cover. Storage Bags are produced in the US.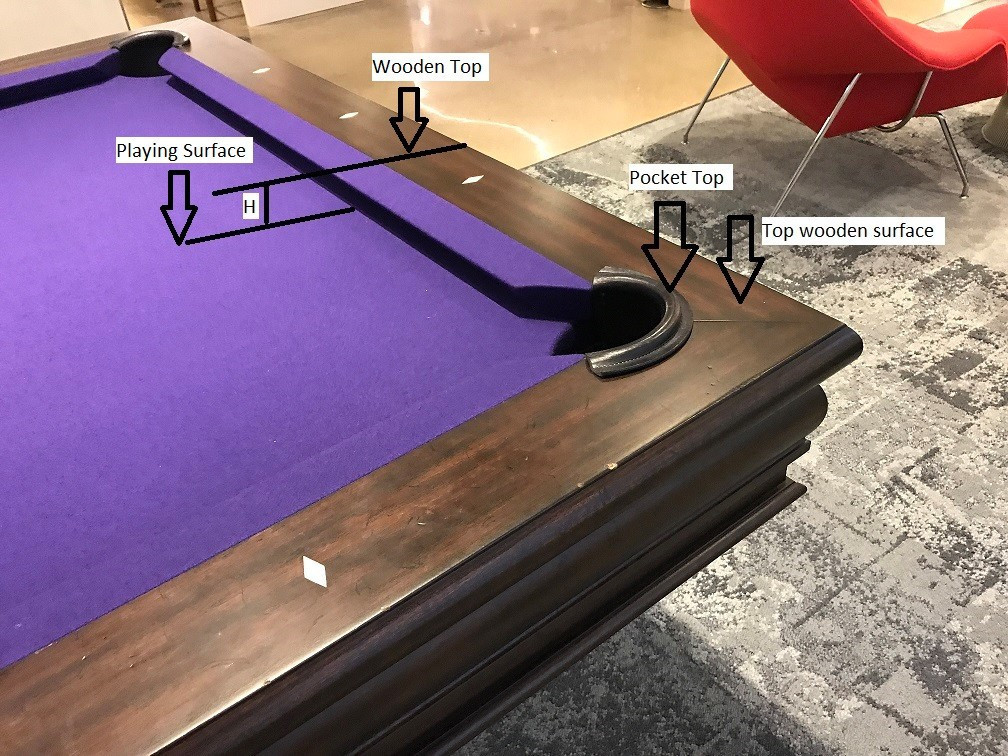 WE ARE SHIPPING IN
15 - 20 BUSINESS DAYS
MUST ORDER BEFORE 8:AM EST
E.K. (IN): Don, Here is the pic I took of the pool table. Fit and color are perfect! Also, very stable. Thanks again for all your help in generating a quality product and getting it here in such an efficient manner.
J.&J. R. (KY) I just want to send a big THANK YOU to your staff for making my table topper and getting it delivered in time for Thanksgiving!!!
I ordered a topper for the pool table my husband has installed in our dining room. We received the topper in perfect condition, in the color we ordered, and in plenty of time to set it up. It was easy to set up and fits perfectly!
You cannot tell there's a pool table underneath once the tablecloth is on. The topper is pretty enough to leave on all the time and is very well made. The corners are nicely rounded, the seams match perfectly and the topper is very sturdy.
We were able to enjoy a wonderful, festive holiday meal thanks to your company! Just having our family gathered around the table together was such a blessing for us!!!!
Thanks so much for making it possible! Please let your staff know how much they are appreciated in Kentucky!
Ordering for a guaranteed delivery before Thanksgiving, Hanukkah and Christmas is closed