Padded Custom Size Table Leaf Bags,
Vinyl

and

Flannel
Protect your wooden table leaves extensions from scratches, dust, chips, and moisture with our padded vinyl or flannel custom table leaf storage bags. Also suitable for picture frames and similar applications.
VINYL Custom and Standard Size Dining Table Leaf Storage Bags are made with heavy-gauge, upholstery grade, moisture-resistant vinyl on the outside with a cushion of soft polyester non-woven fleece lining on the inside. Soft material provides long-term protection to your table leaves. Storage table leaf covers are produced large enough to provide room around your table leaf.

Available colors: Black, Kelly Green, Yellow, Lime Green, and Zebra Pattern
Other Custom Size Vinyl Storage Bags
Table Pad Bags




Table

Extension Pad

Bags




Billiard Table Cover Bags

Or any other purpose

where you need a soft cushioning on the inside to protect your item.
When not in use, your Dining Table Pad, Pool/Billiard Table Cover or Extension Table Pad will stay clean and protected in our handy custom made storage bag.

Custom Table Pad Bags are available in black color. The material is strong, moisture-resistant and slick on the inside to provide easy storage.
For all other purposes, we provide cushioned vinyl or flannel material to protect your item.
Made in the USA
Table Leaf Bags and all Table Pad Bags are supplied with Velcro® press and stick closures.
WARRANTY: Three years for the material and craftsmanship.
GUARANTEED FIT: If your custom storage bag does not fit, we will replace it at no charge
Production time: Within 10 business days
A lot of standard size vinyl leaf bags presently offered on the market by all other companies are made in China using the very cheap material. Some of the chemicals used to bond the manufactured fleecing to the vinyl are not stable and in the long run, might harm your table leaf surface.
For our custom made table leaf storage bags, we are buying the US made material produced employing methods that make fleecing very stable which in turn prevents harming wooden polish. The material is very soft and will not harm your wooden table leaf surface.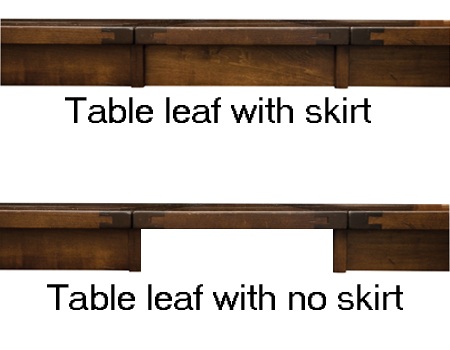 If you do not have PayPal account, you can still pay with your CC:
At the PayPal page click on Pay with Debit or Credit Card link
Padded Standard Size Table Leaf Bags
and
Standard Size Table Pad Bags
Vinyl Table Pad Storage Bag
25 x 40
Provides storage for table pad and up to four table pad leaves (Black or Brown)
$ 35.95
If you have a table with perimeter table leafs -we can make storage bags for them, too.
You can also order bags for your framed artwork, mirrors, and for other purposes.
Table Leaf Bags, Table Pad Bags, Billiard Cover Bags, Extension Table Pad Bags are custom made in our Wolcottville, Indiana facility.
For an unusually shaped table leaf or other items, you need storage bag for, please fill up the form provided below or contact us to receive a quote.
All Custom Table Leaf Protectors (vinyl and flannel) or Custom Table Pad Bags are made following your specifications in our Indiana, US facility.
We are using a calculator to take into account your measurements and produce a storage bag with enough room to accommodate your item.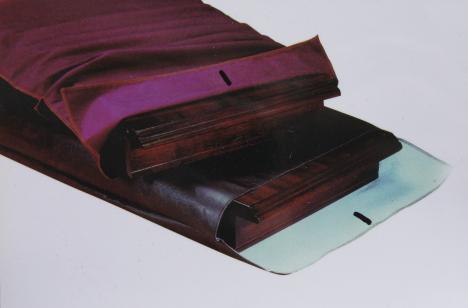 Navy Blue Flannel Material, Ipswitch Flannel
H.L. (NJ): I received my table leaf bag last week and am very satisfied so far. It seems to be well made and fits well. Thanks for your interest and your quick response. Harvey
W.V. (FL): The bags fit my leaves perfectly... I am so pleased with the fit and quality of the fabric ... thank you.
M.M. (WA) Apr. 2017: The dining table leaf covers arrived. So nice and well made. And such wonderful service.Thank you, Don.
R.A. (MT) June '18 Don, We received the leaf covers as expected and they are perfect. The quality craftsmanship certainly shows. Thank you and have a great day,
NOTE: Due to your email provider settings, our answer might end up in your SPAM folder.
BLACK KELLY GREEN YELLOW LIME GREEN ZEBRA
FLANNEL Custom Dining Table Leaf Storage Bags are made of the finest Ipswich 100% cotton flannel made in the USA. This material is produced with a non-tarnish finish on both sides. It is a heavyweight 4 oz per square yard material providing ample protection and allowing your wooden leaf to be exposed to air circulation. Cotton is a natural fiber and it will never damage your table leaf finish.
Available color is NAVY BLUE